To make the most of Facebook advertising, you need to focus on reaching the right diners.
You're more likely to get better results and spend less money doing so if you target people who have already expressed an interest in doing business with you.
When I work with bar or restaurant owners, the first thing I look at is their Facebook ads: Nine out of 10 users "boost" their posts and target a broad audience that probably has little interest in visiting their businesses. I often hear, "Facebook ads don't work for me – we've tried them and been badly burnt." A lack of targeting is likely a root cause of this.
In this post, we'll teach you how to save money and attract more guests by using Facebook ads and taking a smart, targeted approach.
First, we'll cover a brief introduction to paid marketing and Facebook ads for restaurants. Then we'll look at why custom audiences drive down your Facebook marketing costs and boost your return on investment. We'll finish with a walkthrough of how to set up custom audiences for your business with a video and step-by-step instructions.
Mastering Facebook Ads for Restaurants: An Overview
Facebook ads are powerful.
Not only is Facebook's reach and scale massive, its users have a willingness to trust in products and services that reach out to them via the social channel. Businesses have the potential to reach over 2.3 billion monthly active users, and according to a recent study, 78% of American consumers have found retail products to buy on Facebook. 
This is mostly achieved through the ads that are shown to users as they scroll through their Facebook feed. Facebook ads are a great tool for restaurants to use to reach target customers because they're highly customizable. When creating an ad, you're given a wide range of options when it comes to deciding who you want to see the ad, based on factors like location, demographic, and/or profile information. You then set a budget and determine the duration of time the ad will be live for. You can also choose what type of engagement you're looking to spur with this ad campaign – clicks, views, impressions, likes, shares – and tell Facebook to spend the allotted budget toward reaching those goals.
Facebook Ad Audiences: Why They're Useful and How to Create Them
As a restaurant owner, operator, or marketer, how do you decide who to target when creating your Facebook ads? You develop buyer personas based on your most loyal customers.
To learn more about identifying your target customer and how to develop buyer personas, check out our post How to Entice Your Restaurant's Target Customer.
There may be more than two billion users on the platform, but not all of them are within your target market nor do they embody the characteristics of your target customer base. Though you have the ability to reach two billion people, casting your net that wide will likely not result in visits to your restaurant.
One of the ways you can use Facebook ads to reach your target diner is by setting up custom audiences. 
Say you're a family-friendly gastro pub with an extensive craft beer menu. Within Facebook Ads Manager, you can create an audience that fits one or more of your restaurant's buyer personas, like men between the ages of 25 and 55 who have children, live within a 10 mile radius of your location, and have liked a beer-related page on Facebook. This audience can then be saved to use to target future Facebook ads.
Custom audiences offer the twin benefits of:
Reaching an audience that's more likely to convert.
Reducing marketing spend. Because your target audience is small, the Facebook marketing costs to reach them are lower.
Besides building audiences around buyer personas, you should also be creating audiences that include people who have interacted with either your Facebook page or content you've posted on Facebook. This is called a warm audience: These are people who have engaged with your Facebook or Instagram page (they're both owned by the same company, after all) within a given timeframe.
They're considered "warm" prospects because they've interacted with your brand and likely have some idea of who you are, what you stand for, and what you're trying to accomplish, though they have not spent any money at your restaurant – the differentiator between a prospect and a customer. 
A cold prospect, by contrast, doesn't know you, your restaurant's brand, mission, vision, or purpose; It takes more time, energy, and money to introduce yourself and your services to these people, so the ROI can be harder to justify.
A Step-by-Step Guide to Creating Warm Audiences
Let's walk through how to set up some key Facebook ad audiences for your restaurant to target with all of your future Facebook ad campaigns. Here's a guided, instructional video explaining how to create a warm audience and then how to use that audience when creating a targeted Facebook ad campaign. 
Step 1: Create a custom audience
First, we'll start by navigating to Facebook Ads Manager and creating a custom audience.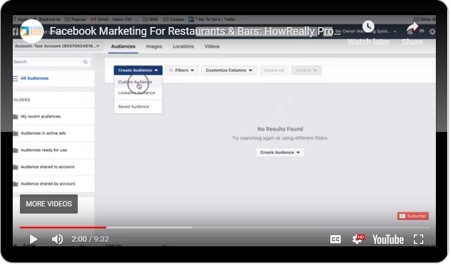 You can create an audience based on factors like:
· Customer File – This is where you can upload lists – like a .CSV file of subscribers to your restaurant's email list or loyalty program participants – and tell Facebook you'd like to create an audience out of these specific people.
· Website Traffic –  If you have a Facebook tracking pixel enabled on your website, you can create a custom audience out of the people who have visited your website after first visiting Facebook.
· Engagement – You can create an audience comprised of people who have engaged with your restaurant's Facebook page, Instagram page, or content on either, as well as anyone who has liked or followed your Facebook or Instagram pages. This will include anyone who viewed your page in the last 365 days.
Once you have created your custom audience and given it a name – like "Local area families" or "Patriots fans" – click save.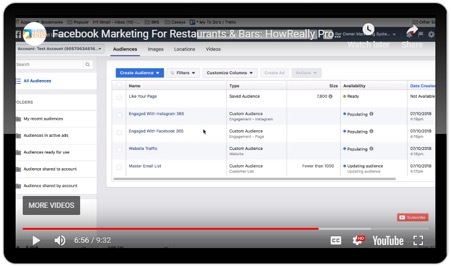 Step 2: Put them into a single audience
Next, combine each of the custom audiences you've created into one super group. This way, you can target multiple groups of people with the same ad.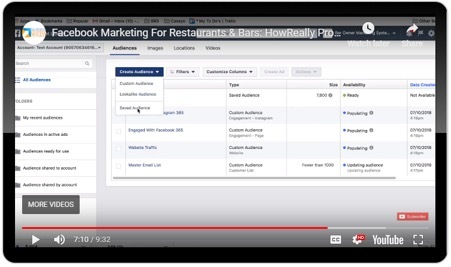 Start by navigating to "saved audience," then:
· Create the audience name – Like "warm audience for April promotion" or "warm audience for graduation season promotion."
· Include all the custom audiences you've created – Or whichever audiences you'd like to see the ad you're posting.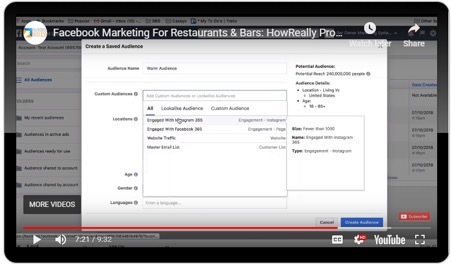 · Update the radius – This feature allows you to target people who live within a certain geographic area. For example, you could target all audience members who live within five, 10, or 20 miles of your restaurant. 
· Update the age demographic – This feature allows you to target people within your audience who are within a certain age range. 
Now that you have your target audience created for your ad campaign, let's create the ad itself. 
Step 3: Create a campaign in Facebook Ads Manager
Start by navigating to Facebook Ads Manager.
Create a campaign and save as a draft.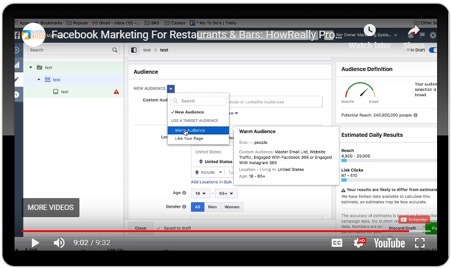 Next, navigate to the ad-set level. This is where we'll select the audience who will see your ad:
· Select traffic and budget – This is where you determine how much money you'd like to spend on promoting this ad and the type of engagement you're looking to spur via this ad.
· Choose your audience  – Using the dropdown, add one of the larger audiences you created. Pro tip: From the dropdown, you can also select Facebook users who like your page.
Once you're ready for your ad campaign to go live, click the toggle in the top right corner from "In Draft" to "Live." 
And there you have it.
To harness the true power of Facebook Ads for your restaurant, you need a targeted approach. Narrowing down your audience to a warm audience who knows who you are and what you're about and who would be likely to take you up on your offer are likely to convert from leads to customers. 
Use the above video and step-by-step instructions when creating your next Facebook ad campaign to attract more guests to your restaurant. The results will make you a believer in the targeted marketing method. 
Content source – Toast